By a car
GPS: 49°16'20.048"N, 17°42'54.118"E
Parking lot
ZOO Zlín administrates these 3 following parking lots which are for free.
P1 by a main entrance, 124 places are offered
GPS: 49°16'13.438"N, 17°42'52.449"E
P5 and P6 by a seasonal entrance with parking places also for buses, 611 places are offered
GPS: 49°16'25.792"N, 17°43'17.308"E.
You can also use another 3 paid parking lots on private areas (with parking fees). Zlin Zoo is not responsible for parking prices on these parking lots.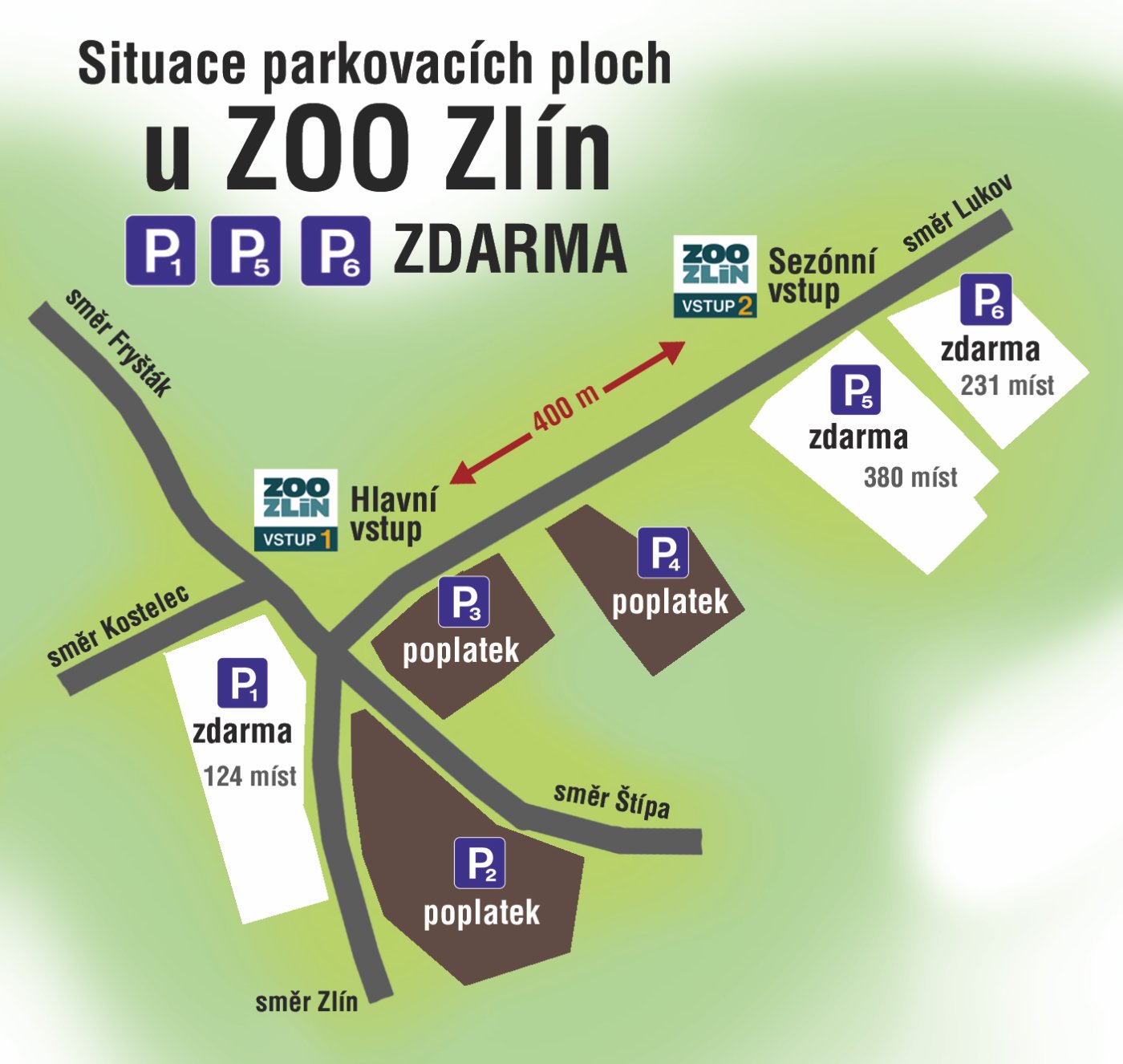 By a bus
Public transport Zlín
The bus station Zlín
Buses Czech ČSAD toward Lukov, Kašava, Držková.


By a train
The most convenient way is to find connection to a railway station Otrokovice and then you can continue:
by a train – change to train connection to the station ZLÍN-STŘED. Then you have to go to the bus stop MHD Zlín nám. Práce, buses Nr. 34 and 36.
by a bus MHD Zlín Nr. 1, 2 and 6 (the bus stop is in front of the railway station Otrokovice). You will get off the bus on the bus stop náměstí Práce in Zlín and change to the bus Nr. 34 or 36.


By a bicycle
Five kilometres long cycleway Nr. 5067 goes from Zlín to zoo. You can use a parking lot for bycicles by the main entrance. This space for bycicles is not locked and it is freely available. In this case it is necessary to lock or fix bycicle by yourselves. ZOO Zlín is not responsible for any kind of loss or damage your pesonal belongings located here.